Vertical Grow Racks for Commercial Cannabis
Vertical Grow Racks for Commercial Cannabis Growers
Maximize space – go vertical. Grow over two, three, four or more levels. Monetize all your available space. Vertical Farming is here to stay, and one of the best ways to maximize your space and your yields is with rolling vertical grow racks for commercial cannabis growers.
Optimize all space in the grow with having only one mobile aisle per room. Be able to have your mobile aisle be as large as you need, or as local laws require. These rolling vertical grow racks are recommended for commercial cannabis grow facilities because you can fit more plants into a specific location using air space instead of ground space. Our grow racks will maximize your space for these valuable cannabis crops.
100% Made in America! We manufacture all components for our grow racks in-house and guarantee our materials and our processes for 5 years.
INNOVATIVE GROWERS EQUIPMENT
LEADING COMPETITOR
STRENGTH AND STABILITY
1/4″ aluminum frame
1500 lbs. per linear foot
1/8″ aluminum frame
1000 lbs. per linear foot
TRACK LENGTHS
Pallet Racking: 8′, 10′, and 12′ lengths
Bulk Rack: up to 8′ lengths
WHEEL SIZE AND MATERIAL
4.5″ stainless steel wheels (rust proof)
3.25″ zinc-plated wheel (rust-resistant)
MECHANICAL ASSISTANCE
Stainless steel, machined handle
Drive box mounted directly to sealed drive chain
Unstable, plastic handle
Center-mounted drive box connected to exposed drive chain
HARDWARE AND FASTENERS
Hardware made from rust-proof stainless steel
3/4″ nut and bolt system
Zinc-plated materials that may rust over time
Simple screw system
LEARN MORE ABOUT OUR VERTICAL GROW RACKS FOR COMMERCIAL CANNABIS, CLICK ON THE PINS TO REVEAL PRODUCT DETAILS
---
Custom Branding
Lock & Roll offers high-quality, wipe-down vinyl decals finished in a glossy white, for custom branding to represent your business. There are also some custom colors available upon request.
Click on the pins to reveal product details
How Innovative Commercial Vertical Grow Racks Stack Up Against the Competition
Dan Pipp takes a closer look at the Innovative Growers Equipment vertical grow racks and does a side by side comparison of features and manufacturing standards of the Innovative Racks compared to the leading competitor.
Stationary Racking
Combine sections to any length desired – example – 10 – 12′ sections 120′ of growing space
8, 10 and 12 foot Increments
Heights come in 2′ increments from 8′ tall to 24′ tall (custom order heights are available upon request)
Heavy duty racking systems
All powder coated white
Custom designed to every job
Custom made to order
Custom delivery and installation options available and performed by IGE's own crew/delivery equipment
Use stationary racking for multiple horticulture crop options, including cannabis crops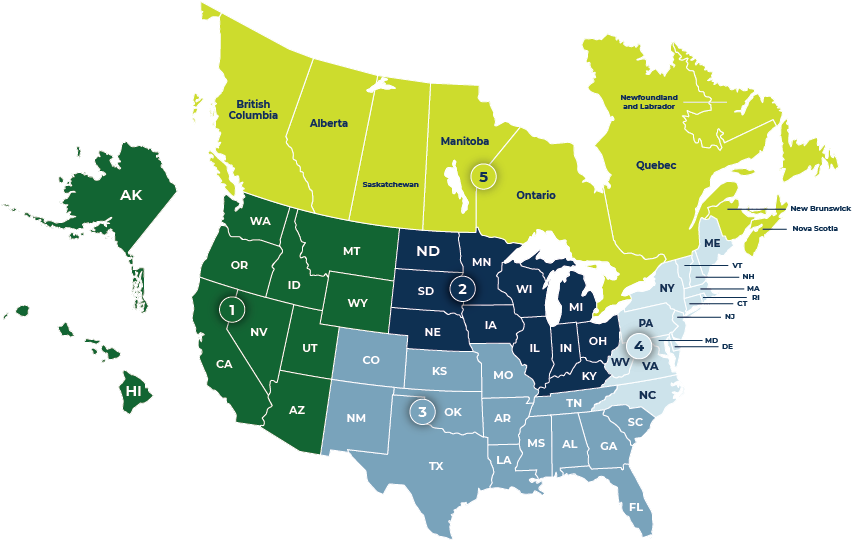 Innovative Growers Equipment Inc. – Hydrofarm Commercial Division Regions
---