Air Flow & Fans
Count on Innovative Airflow, Jetfan, Schaefer Fans and Hydrofarm Commercial.
AIR CIRCULATION
Maintaining proper air flow will help carry moisture away from plants. If moisture collects on the leaves for too long, your crop will be at risk of bud rot, mildew, mold, pests, and more.
Schaefer Fans
Reduce heat stress and improve air quality with Schaefer's uniquely designed circulation fans. Unrivaled in the market, these fans are engineered to produce greater air movement and superior cooling no matter the application. You don't hear them. You don't see them. You only feel them!
Also known as Horizontal Air Flow (HAF) fans, these fans move air in a coherent horizontal pattern creating a gentle 'racetrack' air flow pattern needed in greenhouses to maximize heat distribution and humidity control by mixing the air from ceiling to floor.
FEATURES AND BENEFITS
Deep guard design for unmatched performance, low noise levels and safety without sacrificing air flow
Matched high quality motors and blades for maximum efficiency
Powder coated steel guards for increased durability and corrosion resistance
Hot dipped galvanized guards on VK12-GA and VK20-GA models for even greater rust protection
Powder coated steel mounting bracket and power cord included
Wide variety of mounting options available for flexible and easy installation
Variable speed controls available
Misting kits available for even greater cooling
Two year warranty
Made in the USA
Innovative Air Flow Systems
KEEP AIR FLOW MOVING
Growers often think that indoor facilities are immune to the challenges that face outdoor farms in terms of pests, bacteria, rot, and mold, however, indoor facilities are just as much at risk for crop-killers as traditional agricultural practices. Air flow allows CO2 to spread through the farming facility, which reduces humidity and supports plant growth. Without constant air flow, significant growth would be next to impossible. As air moves through the tightly packed racks it collects heat from the lights, causing air to become hot and humid, which can create mold and mildew in plants. The Innovative Airflow System is designed to keep air flow moving throughout the growing areas, to ensure healthy growth and optimal conditions.
JETFAN
LOW POWER CONSUMPTION—JETFANS OPERATE AT A MERE 25% OF THE POWER OF COMPARABLE INLINE FANS
Prepare to be blown away by the new Jetfans! These powerful mixed-flow digital fans are 32-bit microprocessor-controlled and offer outstanding performance and value. Available in 4″, 6″, 8″, and 10″ models, Jetfans are the ideal solution for your ventilation needs. Because the motors in these fans are EC—electronically controlled—they offer very high efficiency, reliability, and controllability. They include a highly precise speed control unit that can be detached from the fan and power cord if desired.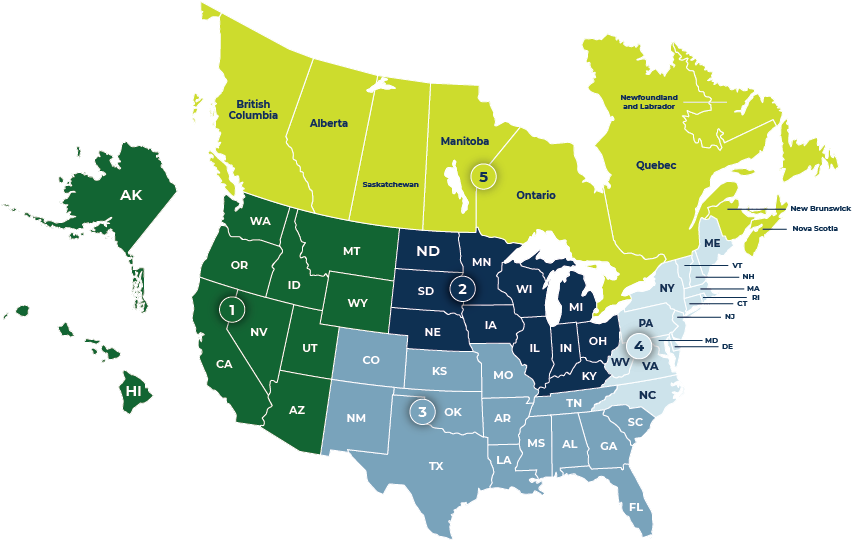 Innovative Growers Equipment Inc. – Hydrofarm Commercial Division Regions
---