PHOTOBIO CX 680W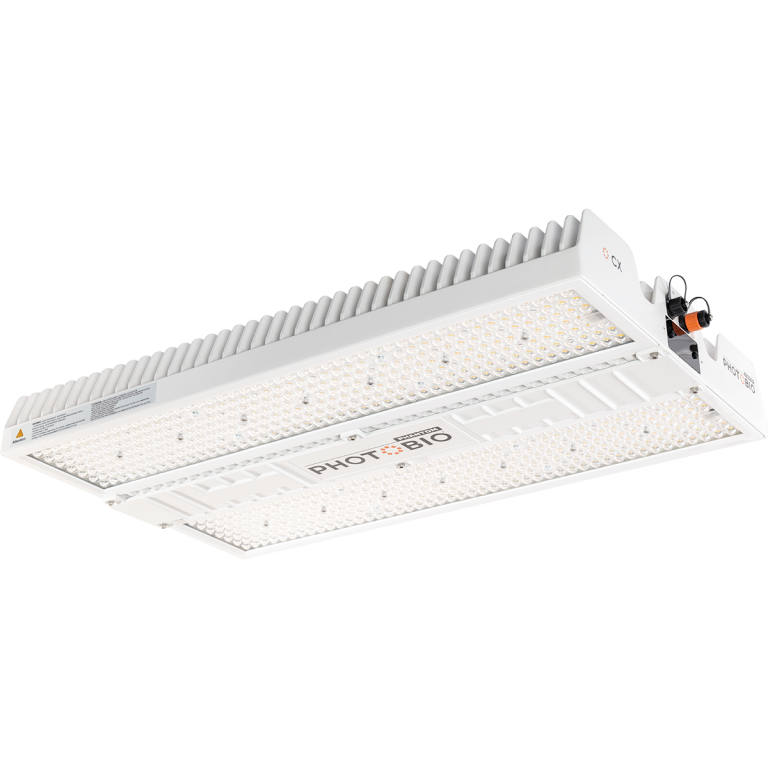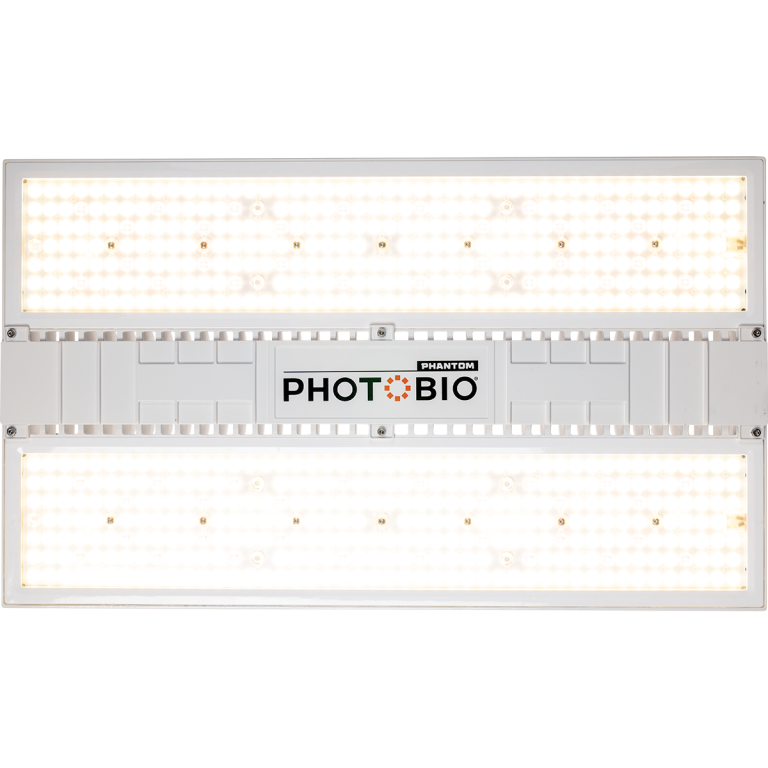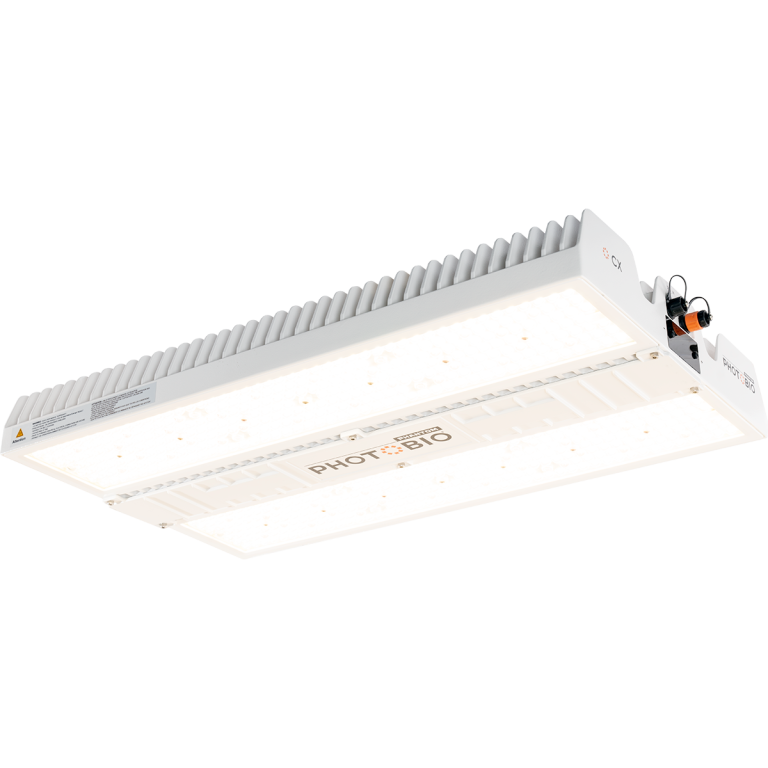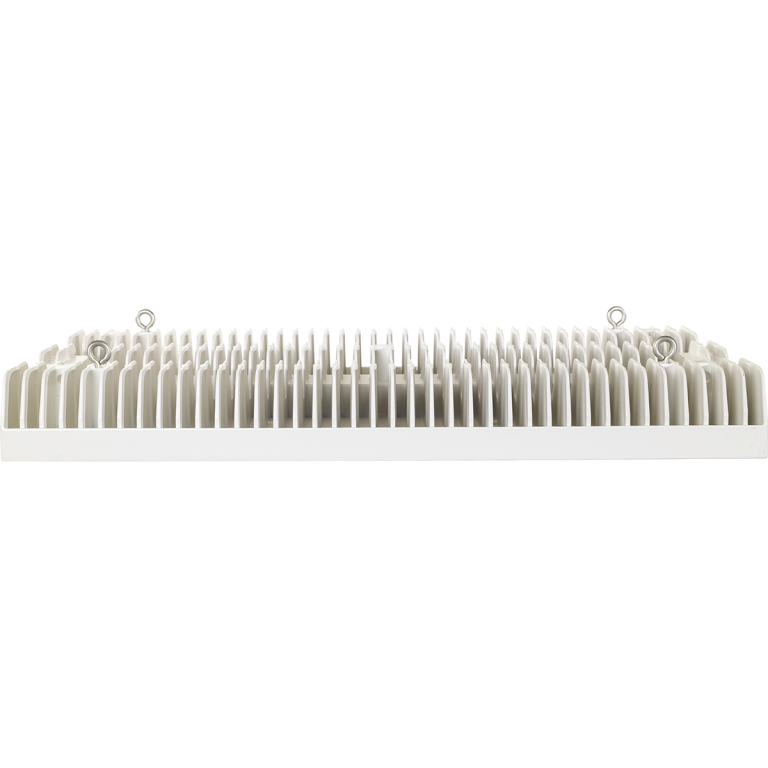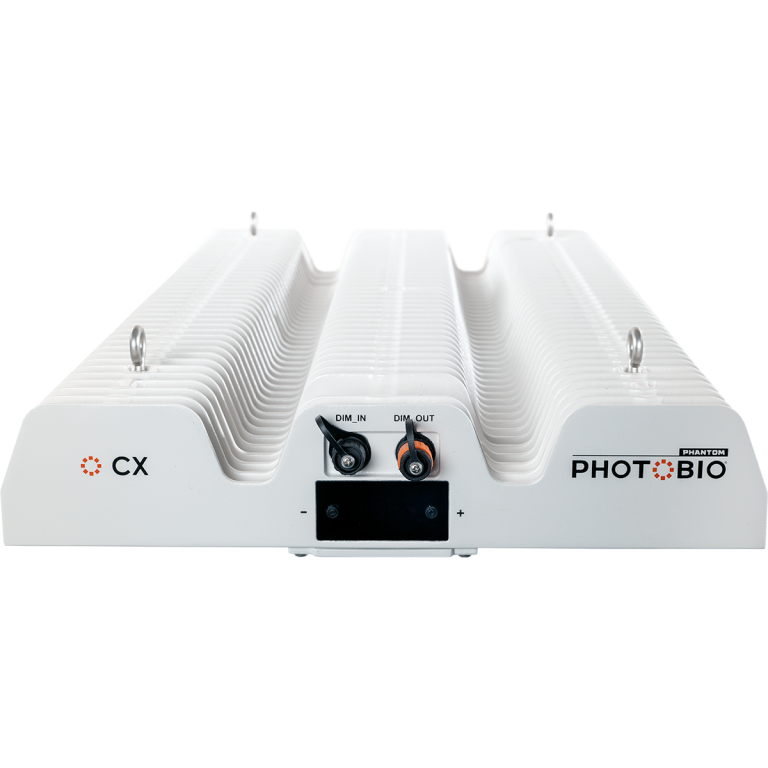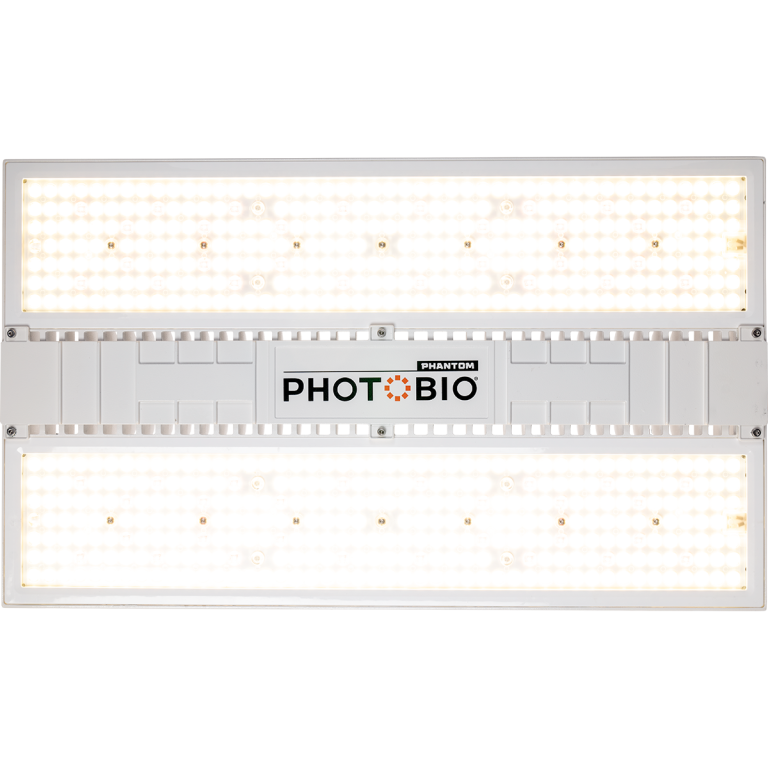 This Product is Great for:
Single Level, Low Ceiling
The PHOTOBIO•CX 2125 100-277V S4 is a compact high-performance LED fixture with the highest photon output fixture within the PHOTOBIO product lineup. This high-efficiency compact top light is designed for horticultural professionals looking to increase performance and yields while minimizing power consumption. The CX is truly a direct 1:1 replacement for 1000W DE fixtures offering higher photon flux, more light to your plant canopy, and better overall distribution vs 1000W DE's. The 2.6″ Slim vertical design is optimal for maximizing vertical real estate, while passive cooling fins keep the operating temperatures low. CX features iLOC Integrated Light Output Control push-button interface allowing the grower to adjust the photon output based on crop maturity. The high-efficiency S4 spectrum provides more red, far-red, and blue wavelengths to deliver vigorous growth and optimize flower development.
Product Features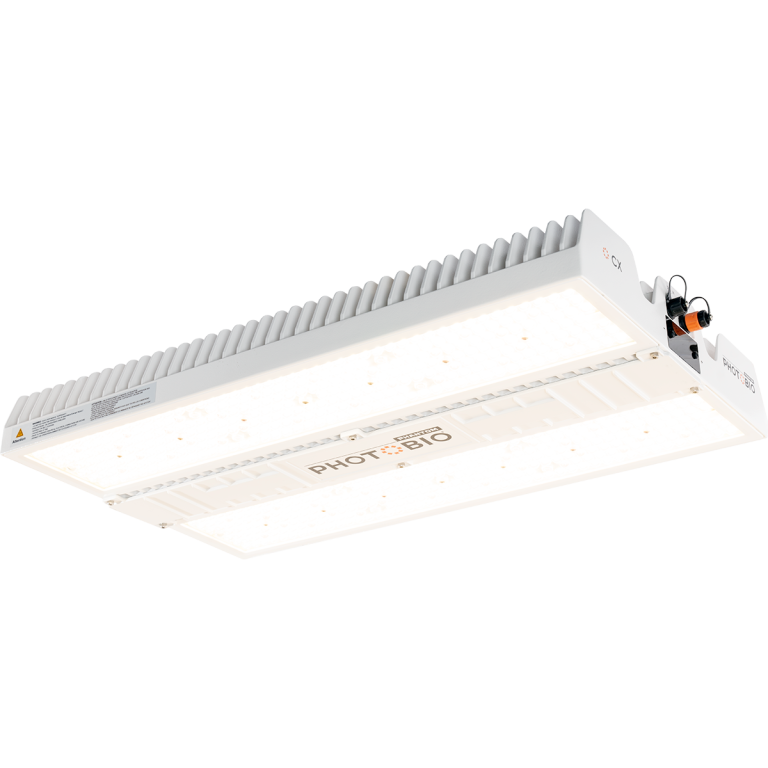 Product Specifications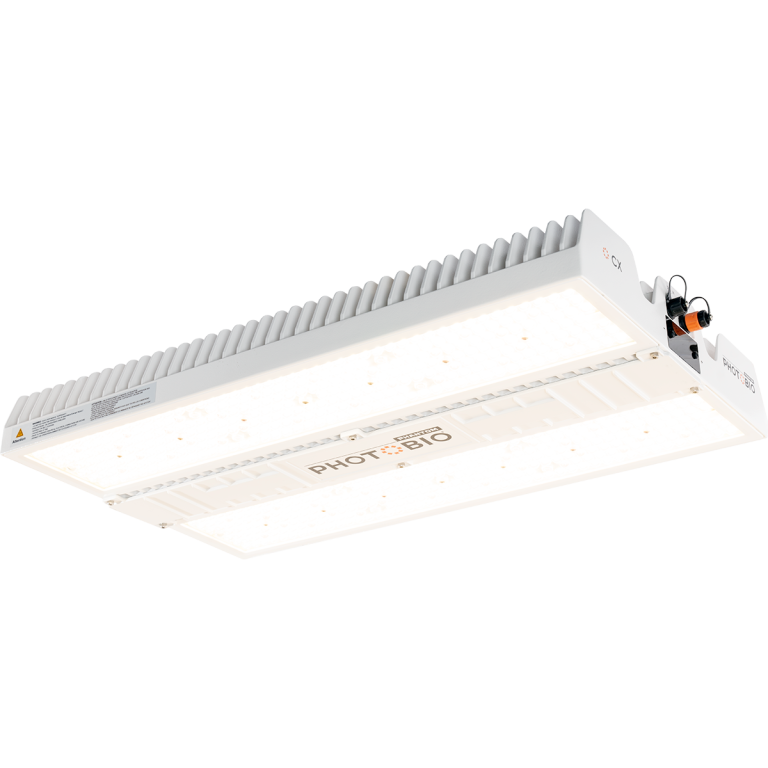 2125 umol/s Photon Flux @ 277V
2087 umol/s PPF
2.5 umol/J efficacy of light output
850W high powered LED solution with slim vertical profile (24.1L x 14.2W x 2.6H inches) and 22.7 lbs
Superior canopy penetration by utilizing secondary optics
Osram/Seoul diodes produce the S4 Spectrum
1:1 direct 1000W HPS replacement utilizing similar footprint
iLOC Integrated Light Output Control with digital screen for monitoring output levels
Compatible with PX Controllers for dimming – 500 pieces per zone
Includes 10' PHOTO•LOC 0-10V control cable
C clamps included
Power cords sold separately, or via pick kit
Voltage: 120-277V
5 year warranty
IP66 rated
ITEM CODE
SPECTRUM
DIMMABLE
WATTAGE
CORD/PLUG
EFFICACY
OPTICS
IP
WEIGHT
VOLTAGE
LIFETIME
TO L90
PTB8850LS41
S4
0–10V
850W
10′ W/ 5-15P
2.5 UMOL/J
105*150; 90*105
IP65
27.55 LBS
100–277V
>50,000 HR
PTB8850LS42
S4
0–10V
850W
10′ W/ 6-15P
2.5 UMOL/J
105*150; 90*105°
IP65
27.55 LBS
100–277V
>50,000 HR
PTB8850LS43
S4
0–10V
850W
10′ W/ L7-15P
2.5 UMOL/J
105*150; 90*105
IP65
27.55 LBS
100–277V
>50,000 HR
PTB8850LS44
S4
0–10V
850W
10′ W/ L7-20P
2.5UMOL/J
105*150; 90*105°
IP65
27.55 LBS
100–277V
>50,000 HR
PTB8850LS47
S4
0–10V
850W
10'W/ 3 WIRE
2.5 UMOL/J
105*150; 90*105°
IP65
27.55 LBS
100–277V
>50,000 HR
PTB8850LS4X
S4
0–10V
680W
NO CORD
2.5 UMOL/J
105*150; 90*105°
IP65
27.55 LBS
100–277V
>50,000 HR
S4 Spectrum
Normalized Photon Output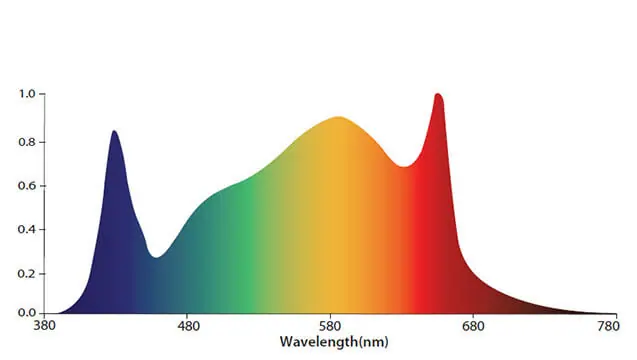 Recommended Accessory
Autopilot PX2 Lighting Controller
Item Code: APDPX2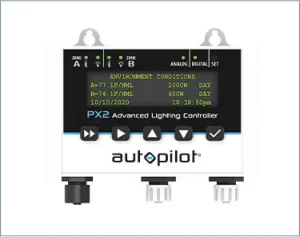 Custom Light Layout Service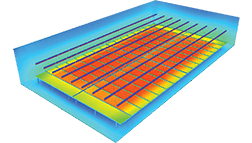 offers professionally rendered lighting plans to help you evaluate the needs and requirements of your project.
Professional Grow Light Accessories
The PHOTOBIO CX professional LED grow light can be controlled through a 0-10V analog signal from your master greenhouse controller, through use of our inexpensive APDX2 Controller or independently through the onboard dimming control.
Fully compatible with optional PHOTOBIO AC Power Distribution Tree cabling system – enables interconnection of multiple fixtures on single power drop – reducing electrical infrastructure costs
Power Harness Options
ITEM CODE
IMAGE
TYPE
DESCRIPTION
CHE1063000W
10′ F 16AWG WT w/
leads, Harness
CHE1063010W
10′ F 16AWG WT
110–120V Plug, 5-15P,
Harness
CHE1063015W
10′ F 16AWG WT
208–240V Plug, 6-15P,
Harness
CHE1083020W
10′ F 18AWG WT 277V,
L7-15P, Harness
Control
| ITEM CODE | IMAGE | DESCRIPTION |
| --- | --- | --- |
| APDPX2 | | Autopilot PX2 Advanced Lighting Controller |
Interested in learning more about our lighting?
Please complete the form and a member of our team will contact you about your lighting needs.
Lighting Information Form