Rolling Benches
Ebb & flow rolling benches (also known as rolling ebb & flood benches, rolling sub irrigation benches, and rolling flood benches) have been in use in greenhouses for at least 90 years. Our polystyrene benchtops feature drainage channels that serve multiple purposes. They allow water to flow evenly during flooding, ensuring all plants on the bench are watered simultaneously. After irrigation, the bench drains evenly through the grooves, preventing plants from sitting in standing water. Our Ebb & Flow benches are ideal for horticulture, including cannabis cultivation. They are made with high-quality materials such as galvanized steel tubing for legs and framework, marine-grade aluminum for side and end rails, and custom extruded aluminum for rounded bench corners. The benchtops are vacuum-formed UV resistant polystyrene, manufactured in long lengths to minimize glue joints and facilitate easy shipment.
ADVANTAGES OF GROWING ON EBB & FLOW ROLLING BENCHES
At Innovative Growers Equipment we stand behind all our products that we manufacture, sell and install for our customers. We follow very strict quality control guidelines we have set to ensure the customer gets an outstanding product each time.
Save 50-90% of Water
compared to other methods of watering with a fully recirculating system.
Much easier to control relative humidity in the growing environment. Plant foliage and floors under benches are always dry.
Crops are always watered very evenly. No more constant touch-up watering on edges, etc.
Save 60 to 90% of labor
compared to other irrigation methods.
Ebb & flow rolling benches are ideal for retail areas. Watering can occur even when customers are in the area with no hoses being used and the floors remaining clean and dry.
Ebb & flow rolling benches can be stacked in propagation and seeding areas and in growth chambers. No water dripping down to lower levels from the upper ones.
Save 75% of fertilizer
compared to other methods of watering with a fully recirculating system.
Growers report using significantly less chemicals, especially fungicides.
Most crops, including cannabis crops, grown on Ebb & Flow rolling benches tend to finish 1–2 weeks earlier than other irrigation systems.
*When used as a flood and drain table.
All of our benches are custom made to order for each customer
---
Custom Branding
Lock & Roll offers high-quality, wipe-down vinyl decals finished in a glossy white, for custom branding to represent your business. There are also some custom colors available upon request.
No Hoses, floors remain dry
Click on the pins to reveal product details
---
Ebb & Flow Rolling Benches
All sizes of Ebb and Flow benches from Innovative Growers Equipment can be furnished as rolling benches. Rolling benches are commonly used where maximum efficiency in the use of production space is desired, and good access to all the crop areas by personnel and equipment is required. Some degree of access to the crops is given up in exchange for greater efficiency of production.
Standard Ebb Benches Vs Max Roll Benches
Standard rolling benches are the same price as the same size stationary benches. Max roll benches are to be installed on concrete floors, as some of the legs are required to be attached to the floor with anchors to prevent tipping. Standard roll benches are not required to be anchored to the floor.
Complete Max Roll Benches
Bench structure galvanized 1" steel tubing
Leveling header – 1¼" galvanized tubing, with 2" of leveling capability
Anti-tip bracket welded together with galvanized steel tubing
Metal brackets to secure the bench to concrete
Extruded Aluminum side rails, rounded bench corners
Molded polystyrene Ebb and Flow tray inserts
Bench connector barbed through one end to connect to ¾" hose
All necessary glue and fasteners for assembly
All parts pre-drilled, pre-punched, pre-cut, and ready to assemble
Ebb & Flow Rolling Bench Specifications
All our benches are made to order for each customer. Ebb & flow rolling benches are available in many widths. We currently stock 13', 2', 3', 4', 4.5', 5', 5.5', & 6' wide trays at our manufacturing warehouse. Many other widths are available as a special order. The bench lengths are completely custom, but generally must be at least 7½ feet long as a minimum. Depending on our backlog of orders, we are usually able to ship orders of our stocked widths in about 6-8 weeks. Other special widths may have longer lead times. View the chart for rolling distances.
| | | |
| --- | --- | --- |
| Bench Size | Standard Roll | Max Roll |
| 3′ | not available | 5.75′ |
| 4′ | 7.5′ | 9.75′ |
| 4.5′ | 8.75′ | 11.75′ |
| 5′ | 9.75′ | 13.25′ |
| 5.5′ | 10.5′ | 15′ |
| 6′ | 11.5′ | 15.5′ |
| 6.5′ | 10.75′ | 16.5′ |
Ebb & Flow Trays
In addition to our signature Ebb and flow rolling benches, we also sell the Ebb and Flow trays separately. These can be used as replacement trays in existing Ebb and Flow benches, or to convert other existing benches into modern Ebb and Flow sub-irrigation benches. If you wish to convert existing benches into Ebb and Flow benches, the following are some considerations to keep in mind:
The bench/bench framework must be able to support the Ebb and Flow trays either completely or with sturdy cross bars spaced no more than 50cm (19 1/2') apart on center.
The existing bench framework must be sturdy and stable, able to support the benchtop, the plants, as well as the water when irrigating (about an additional 4 pounds per square foot).
The bench must be able to be leveled. Ebb and Flow trays must be completely level to function correctly. Ideally, there is a method to adjust the benchtop level at frequent locations (typically at each leg).
You will need to have access to the plumbing well at the end of the bench tray to connect the plumbing to the underside of the benchtop.
Expanded Metal Benches
We offer a line of expanded metal benches manufactured with the same quality materials as our signature Ebb & Flow benches. Our benches with expanded metal tops are nearly identical to our Ebb & Flow benches—they have expanded metal benchtops in place of Ebb & Flow trays.
Many customers like to have some of their benches with expanded metal tops, typically in retail areas. Our expanded metal benches have the same legs, framework, extruded aluminum side rails, and rounded corners as our Ebb & Flow benches. This allows for a cohesive appearance in areas with both bench types.
The aluminum side rails extend approximately three inches above the expanded metal benchtops. This helps keep plants from being knocked off of the benches. The aluminum side rails and the expanded metal tops are hot-dip galvanized after being formed, which results in a durable bench that will retain its clean, like-new appearance for many years.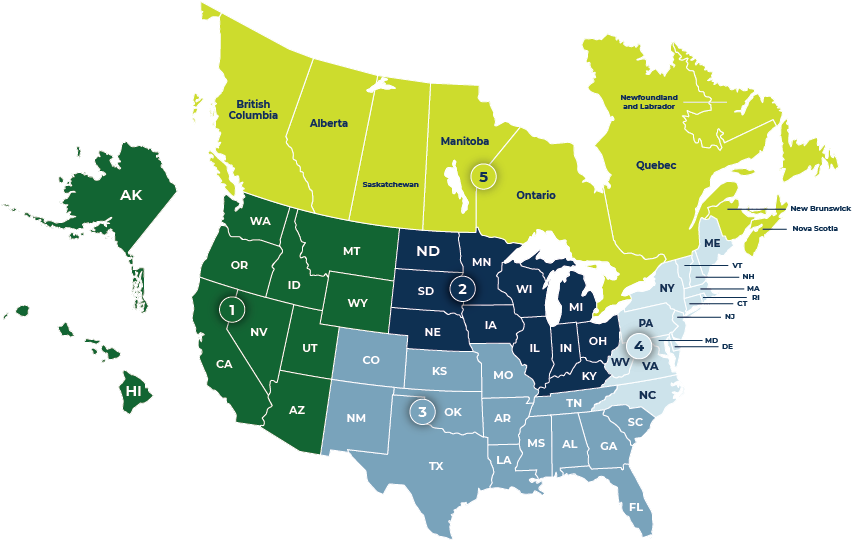 Innovative Growers Equipment Inc. – Hydrofarm Commercial Division Regions
---