Pre Roll Equipment
Founded in 2017, STM Canna is a forward-thinking tech company revolutionizing the pre-roll automation industry. We've helped over one thousand cannabis cultivators, harvesters, and commercial cannabis processing facilities optimize and scale their pre-roll production capabilities.
STM Canna prides itself on offering sophisticated solutions. Our One-Tray Workflow system is at the forefront of innovation, allowing operators to move seamlessly from fill to weigh to close.
Our patented machines maximize efficiency and output to produce award-winning pre-rolls.
The STM Canna product lineup includes:
The renowned RocketBox 2.0 (patented)
Mini-RocketBox PLUS+ Pre-Roll Machine (patented)
The Revolution (patented) and Mini-Revolution industrial cannabis grinders
Our precision weighing scale called LaunchPad
The efficiency-enhancing Atomic Closer (patented)
The labor-saving Cone Lander tray loader (patented)
We've designed each machine to deliver exceptional performance alone or seamlessly integrate into a powerful one-tray pre-roll automation workflow.
Customers who invest in STM Canna invest in the future of their bottom line as we push the boundaries of what's possible to design and manufacture innovative new machines that help operators take their businesses to the next level.
While some companies label themselves "pre-roll experts," STM Canna has a proven track record, development experience, and mechanical knowledge that sets us apart. We have dedicated thousands of hours to perfecting our machines and ensuring the highest quality and efficiency standards.
As the #1 rated client services customer support team, we are committed to providing exceptional service and technical know-how. Additionally, we service our equipment in the USA. We don't just work with, train, and support you – we also grow with you.
At STM Canna, we take complete control of the product design and development process, handling all aspects in-house. This approach allows us to maintain rigorous quality control standards and utilize superior materials to produce every machine we create.
Our products are the culmination of over 20 years of design, prototyping, and manufacturing expertise, driven by innovators who deeply understand the needs of cannabis producers and consumers.
With clients in 42 U.S. states and international clients in Canada, the U.K., Italy, Israel, Australia, Mexico, Poland, Thailand, and South Africa, STM Canna is recognized as a global leader in the cannabis equipment manufacturing industry.
Join us on this exciting journey as we continue to shape the future of cannabis production with our innovative solutions.
Machine Info
STM RocketBox 2.0 Pre-Roll Machine
Introducing the groundbreaking STM Canna RocketBox 2.0, a patented marvel in commercial pre-roll machines. Designed to meet the demands of high-volume production and efficiency, the RocketBox 2.0 sets the standard for excellence.
With cutting-edge technology at its core, the STM RocketBox 2.0 delivers unparalleled performance, producing an astounding 453 pre-rolls in three minutes. This makes it the fastest and most reliable multiple-joint roller machine available today.
Whether you run a small dispensary or operate a large-scale production facility, RocketBox 2.0 is here to transform your workflow and optimize your profitability. Its user-friendly interface and customizable settings put you in complete control.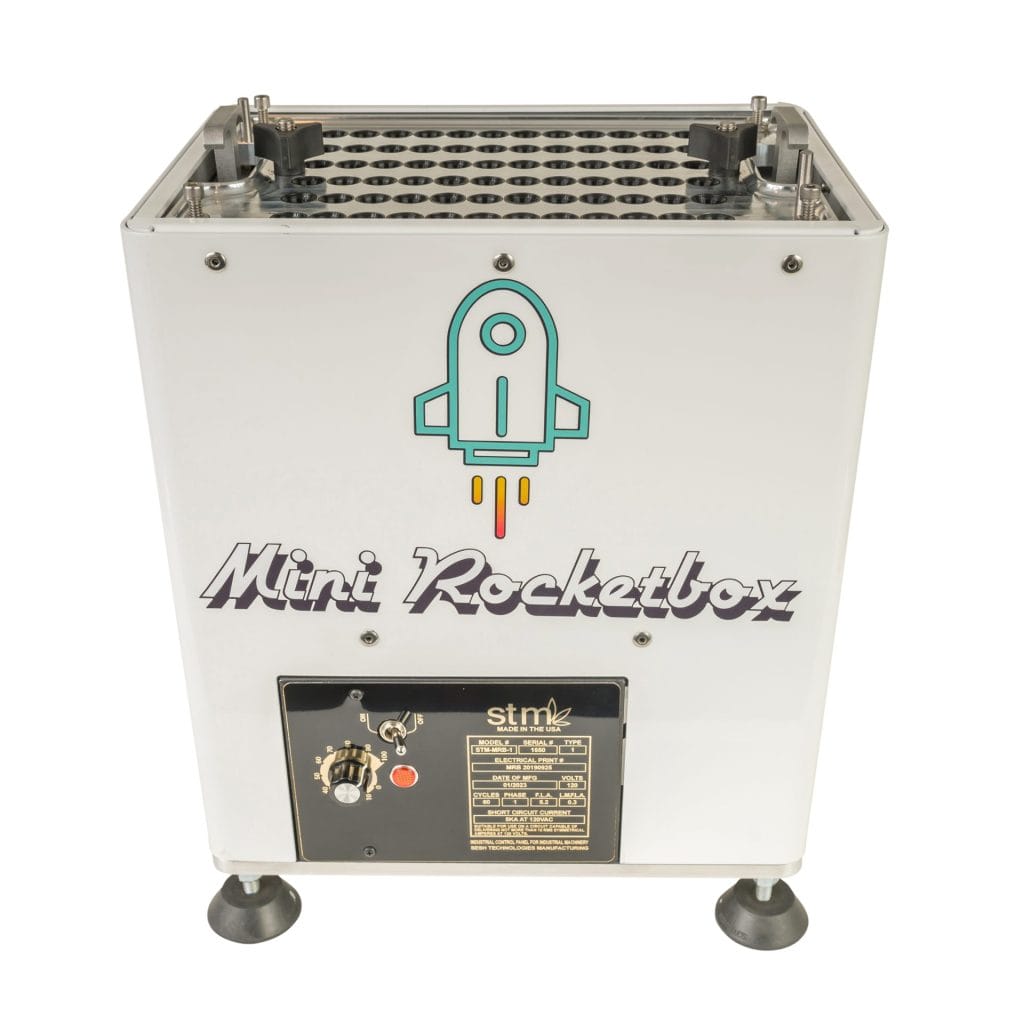 STM Mini-RocketBox PLUS+ Pre-Roll Machine
Introducing the remarkable STM Canna Mini-RocketBox+, the epitome of power, efficiency, and versatility in a convenient size. Built to withstand the test of time, this patented industry leader delivers unparalleled performance, maximizing pre-roll production output.
Don't be fooled by its compact size; the Mini-RocketBox+ packs a punch. It is capable of
producing an impressive 72 filled joints in 60 seconds or less and is a highly efficient option for businesses with moderate production needs.

Its small footprint makes the STM Canna Mini-RocketBox+ the perfect choice for enterprises
with limited space or those seeking a portable solution. With its adaptability, this machine can effortlessly produce pre-rolls in various sizes and configurations.
STM Atomic Closer Automated Pre-Roll Closing Module
Introducing the STM Canna Atomic Closer, the only pre-roll closing machine combining human craftsmanship with cutting-edge technology for an unmatched look and feel.
The Atomic Closer offers a user-friendly design that can close 72 joints in 45 seconds with a dutch crown. Its place in STM Cann's One-Tray Workflow ensures flexibility and scalability, so you can adapt to changing demands without compromising quality.
With compatibility for 84mm, 98mm, 109mm, Dog Walkers, and 98mm pre-roll sizes, the Atomic Closer offers a versatile solution for various product specifications, catering to a wide range of customer preferences.
Experience a significant return on investment within weeks and enjoy substantial reductions in labor costs. The intuitive touchscreen controls guarantee effortless operation, simplifying the process and maximizing productivity. Cleaning and maintenance are equally effortless, ensuring hassle-free operation and minimal downtime.
STM LaunchPad Weighing Module
STM Canna's LaunchPad Pre-Roll Commercial Scale is a game-changer for businesses
seeking precise joint measurements. This cutting-edge scale has the remarkable capability to weigh, and quality check 72 pre-roll joints within seconds.
With its intuitive interface, operators can effortlessly monitor precise pre-roll weights, ensuring consistency and precision.

Designed as a pivotal component of STM Canna's Modular One-Tray Workflow, the LaunchPad Scale revolutionizes the production line.
Cone Lander Cone Loading Machine
The STM Canna Cone Lander pre-roll cone loading machine is a remarkable pre-roll production innovation. The Cone Lander lets you effortlessly load a tray of 72 pre-rolls in seconds, delivering fast and accurate results.
Say goodbye to the time-consuming process of manually loading empty pre-rolled cones into trays – the Cone Lander is here to transform your production efficiency.
Designed for both speed and precision, the Cone Lander significantly reduces the time required for loading 72-count trays.
Experience a notable boost in pre-roll production as this cutting-edge machine streamlines the loading process, eliminating the need for manual labor.
The Cone Lander functions independently, ensuring quick and efficient loading of your trays. However, it truly shines when integrated into STM Canna's cost-effective and scalable complete One-tray Workflow.
STM Mini-Revolution Commercial Cannabis
Grinder
The STM Canna Mini-Revolution industrial cannabis grinder is designed, manufactured, and assembled in the USA and constructed from stainless steel, aluminum, and food-grade materials.
Throughput volume depends on material and operator speed. The STM Canna team could
quickly push through a pound in 1-2 minutes in testing, but your results may vary.
STM Revolution 2.0 Commercial Cannabis Grinder
The STM Canna Revolution 2.0 is a patented commercial cannabis grinder meticulously
designed to revolutionize your grinding and extraction processes.
With its innovative features, the Revolution 2.0 ensures a consistent and homogenous grind,
perfect for evenly packed rolls and extractions and maximizing the potency of your product.
The Revolution 2.0 employs a low heat and low friction approach to grinding and preserving the precious terpenes and cannabinoids that contribute to the aroma, flavor, and therapeutic properties of your cannabis.
Unlike other commercial cannabis grinders that resort to mashing or whipping, leading to
degradation and potency loss, the Revolution 2.0 preserves these valuable terpenes.
Utilizing this cutting-edge grinder, you can trust that your cannabis undergoes minimal damage during the grinding process, preserving its integrity and enhancing its potency.
The result is a product with enhanced aromatic and flavor profiles and increased therapeutic potential.