PHOTOBIO Multibar MX 680W
PHOTOBIO Multibar MX 680W LED Grow Lights are great for:


Single Level, Multi Level
PHOTOBIO Multibar MX 680W LED grow lights change everything. We took a step back, evaluated all the fixtures on the market, and then set out to do things entirely ifferent. Thus, we give you an LED grow light fixture delivering 15% more light to your canopy using 35% less power than a 1000W DE fixture. Therefore, you increase yields while driving down operational costs. The MX 680W LED grow light spectrums were developed in a private research laboratory to drive flower yield and elicit market desirable traits in short day resin producing crops.
In favor of a more efficient contiguous circuit board to deliver unparalleled PPFD uniformity to the plant canopy, the MX 680W LED abandons the bar style grow light concept. Extensive thermal modeling and testing was conducted to ensure diodes remain well below operating temperature to maintain consistent light output and yields. The 0-10V PHOTO•LOC Light Output Control allows you to precisely regulate the amount of light delivered to the canopy when paired with the available Autopilot PX Series controller.
iLOC Integrated Light Output Control on board dimming knob allows you to adjust the photon output intensity to accommodate the various stages of plant growth for optimal photosynthesis activation. With the knob adjusted to 100% using 240V, the MX uses 664W and puts out 1700 μmol/s photon flux (PPF). When the knob is adjusted to 40%, the MX uses 270W and puts out 40% of the photon flux. High efficiency S4 spectrum does not change when using the dimmer knob. It still provides ideal red to blue ratio for vigorous growth and maximized flower development.
Extraordinary performance. Extreme efficiency. Exacting design.
This LED grow light has a multilayer rack centric design, providing the ability to double or triple your canopy square footage within your existing structures footprint. Because the driver is mounted below the fixture and can be remotely mounted, vertical grow space is maximized.
This commercial LED grow light is designed for the serious horticultural professional who is looking to increase business sustainability by reducing power consumption and, simultaneously, improving crop performance and yield. The PHOTOBIO MX 680W Multibar LED grow light is also a qualified product listed with DLC, which makes the fixture eligible for energy rebates, thus giving you futher cost savings and saving significant energy while optimizing plant growth and health.
PHOTOBIO Multibar MX 680W Product Features
PHOTOBIO Multibar MX 680W Specifications
1768 umol/s Photon Flux @ 277V
2.6 µmol/J Efficacy @ 277V
iLOC Integrated Light Output Control allows manual adjustment of light output
Settings are 40%-55%-70%-85%-100%-PX Control
Driver can be mounted remote
Robust commercial design keeps LED's running cool
Precisely control photon output when paired with Autopilot PX series controller (PX2 and above)
Slim design maximizes vertical growing space with remote capable driver
100-277V Driver range
IP65 wet location rated protection against water and dust
Includes PHOTO•LOC signal cable
Includes a voltage specific power cable chosen by the customer
DLC listed (H-RR6RGRH) and qualifies for utility rebates, which play a significant role in optimizing the cost effectiveness of a lighting project
ITEM CODE
SPECTRUM
DIMMABLE
WATTAGE
CORD/PLUG
EFFICACY
OPTICS
IP
WEIGHT
VOLTAGE
LIFETIME
TO L90
PTB7680LS41
S4
0–10V
680W
10′ W/ 5-15P
2.6 UMOL/J
120°
IP65
47.5LB
100–277V
>50,000 HR
PTB7680LS42
S4
0–10V
680W
10′ W/ 6-15P
2.6 UMOL/J
120°
IP65
47.5LB
100–277V
>50,000 HR
PTB7680LS43
S4
0–10V
680W
10′ W/ L7-15P
2.6 UMOL/J
120°
IP65
47.5LB
100–277V
>50,000 HR
PTB7680LS44
S4
0–10V
680W
10′ W/ L7-20P
2.6 UMOL/J
120°
IP65
47.5LB
100–277V
>50,000 HR
PTB7680LS47
S4
0–10V
680W
10'W/ 3 WIRE
2.6 UMOL/J
120°
IP65
47.5LB
100–277V
>50,000 HR
PTB7680LS4X
S4
0–10V
680W
NO CORD
2.6 UMOL/J
120°
IP65
47.5LB
100–277V
>50,000 HR
S4 Spectrum
Normalized Photon Output
Recommended Accessory
Autopilot PX2 Lighting Controller
Item Code: APDPX2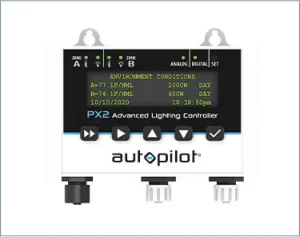 Custom Light Layout Service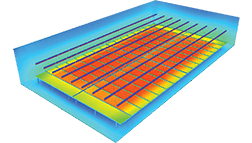 offers professionally rendered lighting plans to help you evaluate the needs and requirements of your project.
Professional Grow Light Accessories
The PHOTOBIO Multibar MX 680W LED grow light can be controlled through a 0-10V analog signal from your master greenhouse controller with the use of our inexpensive APDX2 Controller or independently through the onboard dimming control.
Fully compatible with the optional PHOTOBIO AC Power Distribution Tree cabling system – enables interconnection of multiple fixtures on a single power drop, reducing electrical infrastructure costs.
Fully compatible with optional PHOTOBIO DC Communications Tree cabling system – enables interconnection of multiple fixtures on a centralized controller
Power Harness Options
ITEM CODE
IMAGE
TYPE
DESCRIPTION
CHE1063000W
10′ F 16AWG WT w/
leads, Harness
CHE1063010W
10′ F 16AWG WT
110–120V Plug, 5-15P,
Harness
CHE1063015W
10′ F 16AWG WT
208–240V Plug, 6-15P,
Harness
CHE1083020W
10′ F 18AWG WT 277V,
L7-15P, Harness
Control
| ITEM CODE | IMAGE | DESCRIPTION |
| --- | --- | --- |
| APDPX2 | | Autopilot PX2 Advanced Lighting Controller |
Interested in learning more about our lighting?
Please complete the form and a member of our team will contact you about your lighting needs.
Lighting Information Form